In our post "Finding and Using Open Educational Resources," we touched on how and where to find suitable online materials for your teaching and the best practices in fair use for these resources. Maybe, in the interim, you've started making your first experiences around the use of open educational resources.
But with this post, we're taking it one step further and taking a look at how you can create your own OER teaching materials, and how to share them with others.
Three Good Reasons for Creating Open Educational Resources
There are many different reasons as to why instructors share openly licensed teaching materials and why so many colleges and universities promote their use:
1. Increased Visibility
When instructors share their teaching materials as open educational resources, they allow their often labor-intensive work to reach people beyond the boundaries of their classroom. This, in turn, means that their classes get more visibility, which can then be used as a marketing tool, both by the instructor's university, and outside of it. In fact, nowadays a lot of institutions use OER as an integral part of their PR strategy. One of the best-known OER initiatives spearheaded by a university is that of the Massachusetts Institute of Technology (MIT), which has been making course materials available as OER on their platform MIT OpenCourseWare since 2002, with no sign of stopping anytime soon. At the time of writing, MIT has published course materials from over 2500 courses.
OER also give any potential students looking to apply for college the opportunity to get a feel for the kind of course content and teaching methods they can expect before they enroll in a school or course.
2. Better Quality Teaching Through Collaboration
We already addressed the need for quality assurance and improvement when it comes to teaching materials in our post "Finding and Using Open Educational Resources." Some interpret the fact that there is no one central authority or board responsible for ensuring that the quality of OER is up to snuff as a clear drawback. But when we take a closer look at this issue, we can see that it might actually be an advantage:
Open Educational Resources enable a new kind of collaboration: openly licensed teaching materials can be created, updated, edited, and optimized in collaboration with others. And thanks to the global reach of the internet, it's even possible to collaborate with people and institutions beyond the boundaries of your own university.
Provided your selected platform has a comment feature (comments, star ratings, …), everyone with access to your teaching materials can make a joint effort in making sure that quality standards are maintained, or they can improve upon elements that might need some work. Other instructors can report errors or make suggestions for improvement, and they can also give feedback on their experience using the materials in their own teaching.
Because OER are published under open licenses, they can be continuously improved upon; they can be kept up to date, improved, expanded, and modified by the community. And if changes are correctly cited, you can easily view the source, author, and the kind of modifications that have been made, making this a very transparent and open form of collaboration.
Instructors can get valuable feedback from other users that can help them improve not just the quality of the OER themselves, but also the quality of their own teaching. Eckhoff (2017) summarizes this as follows: OER are a way to open up teaching as a field for research and publication and to increase the quality of one's own teaching through constructive exchange.
If you create materials for specific courses and publish them as OER, you're giving your students an extra boost of motivation because they're allowed to take on an active, collaborative role in the educational process, which also bleeds into the way they approach a more collaborative media and learning culture.
The Textbook for Teaching and Learning with Technology (L3T) is a well-known and popular example of just one such collaborative OER project. In 2011, a total of 116 authors collaborated on the first edition; the second edition was published in 2013, with a total of 268 contributors working together for only one week to revise and make additions to the first edition.
3. Equal Access to Knowledge
OER are, in general, available to anyone in the world with access to the internet. This means that people all over the globe have equal access to knowledge, making OER an essential means of contributing to improving equal opportunities in education (UNESCO, 2019).
The following are some of the best-known online platforms offering a broad selection of OER:
Five Steps to Creating Your Own OER
Let's start off with the good news: Ultimately, you can create Open Educational Resources the same way you would create your other teaching materials. However, there are a few things you should keep in mind and be aware of, like the type of licenses you'll need, or how to publish and label OER so that as many people can discover and use them as possible. Follow these five steps to start creating your own OER.
Step 1
Gather all the materials you need for your course (text, photos, graphics, hyperlinks, audio/video files, …). Make sure you only use content that is in the public domain and copyright-free. You can find an overview of suitable sources in our post "Finding and Using Open Educational Resources."
Step 2
Now start designing and creating your teaching materials. Make sure you cite all your sources correctly. You can find more detailed information on what to consider when creating different content (text, worksheet, video, podcast, online course, …) on the "The Gold Standard for OER" handout.
Step 3
Now decide what kind of license you need for your materials (this may depend on the type of materials you use and your ideas about how you want your work to be used by others).
If you only use your own materials, you can choose any suitable license you like. If you use other OER sources, you have to take their licensing into account (for more information, see the Creative Commons FAQ). When using copyrighted materials, be sure to get permission of use from the copyright holder in advance.
Please also note that CC licenses don't cover personal rights: If there are people visible in your pictures or videos (exception: celebrities, politicians), you have to obtain their consent before publishing the content in question. You can only assume consent with paid models (e.g. stock photos). If you're not sure what kind of license you need for your OER materials, you can use the CC license generator, a tool that helps you create your individual license agreement step by step. You can then just copy and paste the text into your work.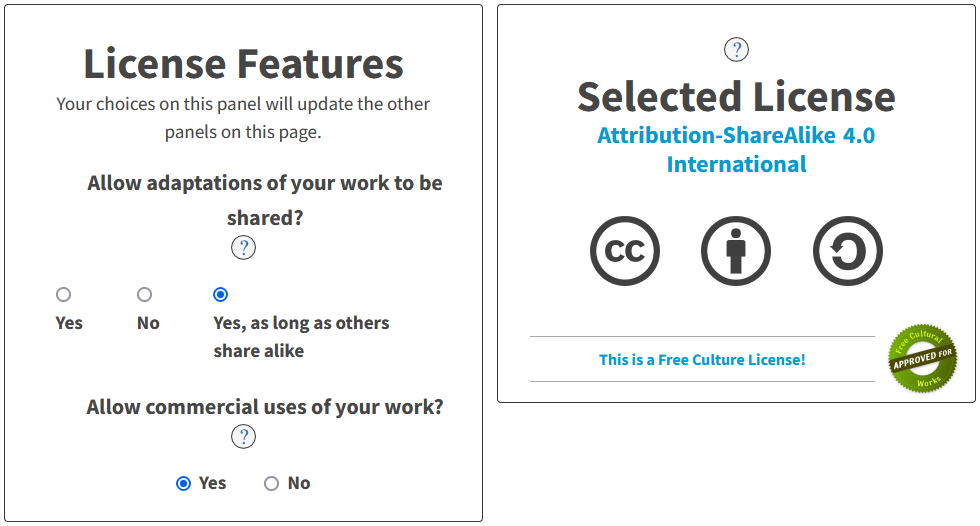 Step 4
When deciding on the kind of format you want to publish your materials in, try to strike a balance between user friendliness and giving as many people access to your OER as possible. Unless you choose a license that explicitly prohibits editing, opt for an open format so that users can easily edit your materials. For example, save text documents as ".rtf" instead of ".docx," save graphics as ".png" instead of ".bmp." Try to avoid using password protected access control for your files. For more detailed advice on suitable OER formats, see the handout "The Gold Standard for OER" above.
Step 5
To make your OER available to others, you need to publish them on a platform that suits your needs. Theoretically, you could also publish the materials on your own (private) website. However, it's a good idea to use a platform that actually specializes in publishing OER, which will also make it easier for others to find your work. The following list is a selection of OER platforms specifically designed for higher education:
To sum up: There are plenty of good reasons to start creating and publishing your own OER. And thanks to a plethora of online resources and tools, it's actually not that hard to do. Give it a try and feel free to share your experiences in the comment section!
---
References
Eckhoff, D. (2017). Der Mehrwert von OER für Hochschulen. https://open-educational-resources.de/oer-einfuehren-in-der-hochschule (29.04.2021)
Blanche, F., Fahrenkrog, G. & Muuß-Merholz (Hrsg., 2020). Der Gold-Standard für OER-Materialien. Ein Kompendium für die professionelle Erstellung von Open Educational Resources (OER). http://www.oercamp.de/wp-content/uploads/2021/04/Goldstandard-fuer-OER-2021.pdf
Mayrberger, K. (2017). Open Educational Resources (OER). https://uhh.de/eniqr
UNESCO (2019). UNESCO-Empfehlung zu Open Educational Resources (OER). https://www.unesco.de/document/5252/unesco-empfehlung-zu-oer
---
Suggestion for citation of this blog post:: Bachmaier, R. (2021, 29 July). Creating and Sharing Open Educational Resources. Lehrblick – ZHW Uni Regensburg. https://doi.org/10.5283/ZHW.20210729.EN